Do you want to know the origin of our guest house's name, Kiyohime? There is a famous old legend in this region of Kumano, "Anchin and Kiyohime", the story of a passionate woman, Kiyohime, who fell in love with a Kumano Pilgrim Monk, Anchin. The story has become so well-told throughout generations of Japanese people that it became even a popular Kabuki story, a traditional Japanese form of theater entertainment since the Edo period of 17th century.
Our guest house is located in the village of Manago, the birth place of this Kiyohime.
A young, beautiful, and "a little bit too passionate" lady, Kiyohime, was the daughter of a local landlord. During old days in Japan, influential members of villages often hosted guests visiting from far away, and especially so along the Kumano Kodo pilgrimage path. One day, Kiyohime's father hosted in his house a handsome pilgrim monk, Anchin, heading to Kumano-Hongu Grand Shrine.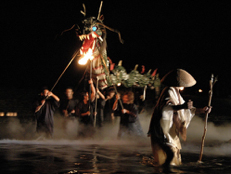 While Anchin was in Kiyohime's house, she fell in love with Anchin, and even pressed Anchin to spend the night together. Anchin, being a gentle but uptight pilgrim monk, was torn between his human temptation and his strong sense of duty as pilgrim monk – no meat eating, no ill-speaking, no ill-mind, no-sexual temptation during the Kumano Pilgrimage – did not know what to do with Kiyohime's romantic passion, and told Kiyohime that he would marry her on the way back from Kumano Hongu Grand Shrine. This is how he escaped that predicament.
Kiyohime waited and waited and waited for Anchin, and as days went by, her feeling of love had grown to even stronger passion with burning desire! In the meantime, Anchin did not return to Kiyohime on the way back from Kumano Hongu Grand Shrine, and attempted to dodge the promise with Kiyohime, by taking another route, Shiomi Pass.
She inquired about Anchin to every passing pilgrim, and before too long, she found out that Anchin indeed by-passed Kiyohime's village, hurrying up his trip back home.
By this time, Kiyohime's passion had become "obsession".
Kiyohime chased after Anchin, and when she reached the top of the Shiomi Pass near a large cedar tree, Kiyohime spotted Anchin running far away. Kiyohime got so mad that her fierce anger is said to have even twisted that large cedar tree…. In fact, even today, the "Twisted Cedar Tree" stands tall on top of the Shiomi Pass, a unique reminder of the Kiyohime story and her passion, or obsession.
When Kiyohime reached Hidaka River, just before Gobo area, she could not run, so became a huge snake-like Anaconda, and swam across the Hidaka River. By this time, Anchin had to run for his life, and asked for desperate help at nearby Dojoji Temple. Monks of the Dojoji Temple had to hurry up to hide Anchin in the Dojoji Temple Bell for his safety. Kiyohime with Anaconda-like body was dashing up through the long steps leading up to Dojoji Temple blowing fire out of her mouth. Kiyohime found Anchin hiding in the Temple Bell, and she was so mad that her Anaconda-like body rushed to wrap many loops around the Temple Bell like a coil while she was spewing fire from her mouth with tremendous force and anger. The iron Bell was burned down and unfortunately, so was Anchin…
"Anchin and Kiyohime" is a story about human passion and a woman who fell in forbidden love with a pilgrim monk. Later legend goes that in the Heaven, Anchin, free from duty as a monk, was able to marry Kiyohime; by then she was a heavenly woman, and they spent time together happily and ever after.
The Guest House Kiyohime, is named after this unique legend, and one-of-a-kind village princess Kiyohime. We hope you will enjoy your stay in our guest house, and the experience with the UNESCO World Heritage Kumano Pilgrimage Path.